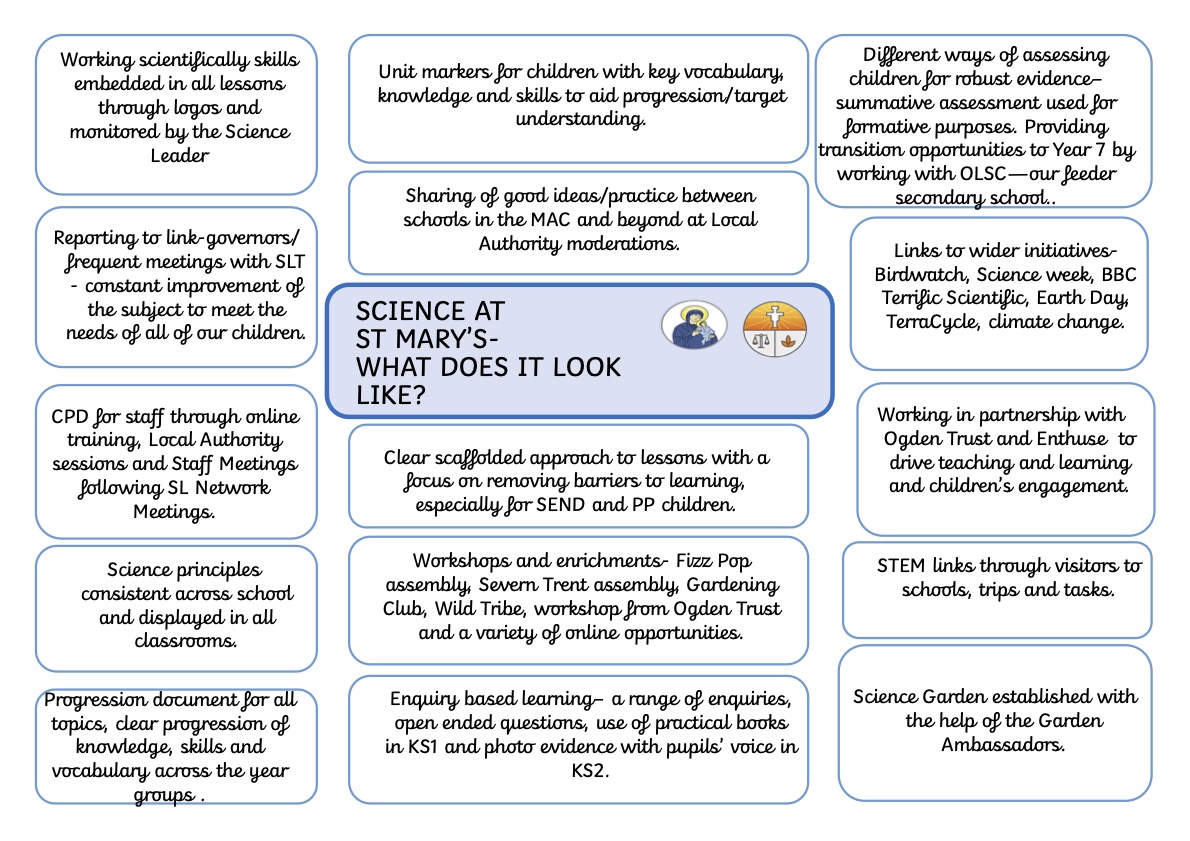 Curriculum Statement and Implementation
The National Curriculum for science is designed to ensure that essential aspects of the knowledge, methods, processes and uses of science are taught. Whereas the Early Years Framework expects pupils by the end of Reception to explore the natural world around them, make observations, draw pictures of animals and plants, know some similarities and differences between the natural world around them and contrasting environments and be able to apply their first-hand experiences to learn more about the world.
At St Mary's, we deliver the pedagogy of science with timetabled lessons from year 1- year 6.
In Key Stage One, there is one and a half hours of science a week and in Key Stage Two there is two hours a week of science.
Science at St Mary's Catholic Primary Academy school is about developing understanding of the world around us. Knowledge of the World, has been identified as a curriculum driver across school, and is therefore what drives our bespoke curriculum. Our science curriculum fosters a healthy curiosity in children about our universe and promotes respect for the living and non-living.
Teachers at our school, create a positive attitude to science learning within their classrooms and reinforce an expectation that all pupils are capable of achieving high standards in science. Through effective teaching of science, we develop children's knowledge and key skills during each topic.
Our whole school approach to the teaching and learning of science involves a clear and progressive Long-Term Plan to ensure that the foundation is there for future learning and provides pupils with regular opportunities to retrieve and build upon their scientific knowledge and understanding. Scientific enquiry skills are embedded within each topic to ensure both knowledge and skills are being taught and practised within science lessons.
There is a clear assessment system in place, with Unit Markers, KWL tables, pre-/post- assessment maps and termly scaled score tests to help teachers assess pupils' learning every lesson and using assessment tools such as Arbor to analyse children attainment of year group objectives. Assessment is used to gauge impact, future planning, transition between key stages and subject development plan for following year.
World Space Week
Recycle Week
Science Documents
Please view the additional documents in school:
Science Knowledge and Skills Progression
Science Vocabulary Progression
Science Unit Markers
Science Knowledge Organisers
Example of a Knowledge Organiser
Example of a Unit Marker
Pupil Voice about Science at St Mary's
Gallery
Wolverhampton University STEM response team workshop:
'What's inside me?'