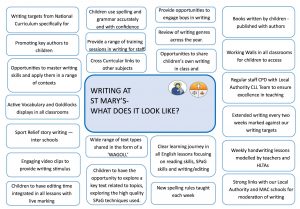 Intent
At St Mary's Catholic Primary Academy, our English curriculum is the vehicle that drives teaching and learning across all subjects. In all lessons, and through a wide range of learning opportunities, children are given the chance to embed and extend their fluency and application of the strands that make up the English curriculum. We aim to inspire an appreciation of our rich and varied literacy heritage and a habit of reading widely and often. We recognise the importance of nurturing a culture where children take pride in their writing, can write clearly and accurately and adapt their language and style for a range of contexts.
English contributes to the social, emotional and educational development of each child. Children need to be able to communicate effectively through speaking and writing and to be able to read confidently, fluently and accurately; with understanding and enjoyment. We want to inspire children to be confident in the art of speaking and listening and who can use discussion to communicate and further their learning. Communication through written and spoken language should show understanding of audience and purpose and demonstrate both imagination and technical accuracy in the use of spelling, punctuation, grammar and choice of vocabulary.
English is both a subject in its own right and the medium for teaching. For pupils, understanding language provides access to the whole curriculum. We believe that a secure basis in literacy skills is crucial to a high quality education and will give our children the tools they need to participate fully as a member of society.
We tailor our curriculum for the needs of our children by ensuring our English curriculum meets our curriculum drivers – see Curriculum Drivers for English.
Aspiration curriculum driver: we develop a love of reading and writing.
Communication curriculum driver: we articulate ideas through speaking and writing.
Knowledge of the World curriculum driver: pupils have exposure to a range of high quality texts and genres with multi-cultural links.
Communication curriculum driver: pupils develop skills for editing and improving work. Pupils are encouraged to speak with confidence as every child is valued.
Aspiration and Communication curriculum drivers: pupils use and understand a wide range of vocabulary.
Implementation
At St Mary's, we are committed to the delivery of excellence in the teaching of English. We aim for each child to be able to read with fluency, understanding and enjoyment and to be able to communicate effectively both orally and in written form to any given audience. These skills are essential foundations for literacy development and the effective teaching of English will offer opportunities to promote these skills across the curriculum.
Statutory requirements for the teaching and learning of English are laid out in The National Curriculum in England Framework Document for Teaching, September 2014 and the Statutory Framework for the Early Years Foundation Stage, September 2014.
The National Curriculum for English aims to ensure that all pupils:
Read easily, fluently and with good understanding
Develop the habit of reading widely and often, for both pleasure and information
Acquire a wide vocabulary, an understanding of grammar and knowledge of linguistic conventions for reading, writing and spoken language
Make rapid and sustained progress in diminishing the vocabulary gap
Appreciate our rich and varied literacy heritage
Write clearly, accurately and coherently, adapting their language and style in and for a range of contexts, purposes and audiences
Use discussion in order to learn; they should be able to elaborate and explain clearly their understanding and ideas
Are competent in the art of speaking and listening, making formal presentations, demonstrating to others and participating in debate
In line with the school's policy and commitment to excellence in English, each class will spend 5 hours each week on direct English teaching. In addition, Key Stage One will have 2.4 hours on Phonics, 1 hour Guided Reading and 10 minutes DEAR (Drop Everything And Read) a week. Key Stage Two will have 1 hour Comprehension, 1 hour Guided Reading and 30 minutes DEAR a week. The structure of each lesson at St Mary's, and the journey of English across the week, enables all aspects of the National Curriculum for English to be taught; lessons are uniquely planned and tailored to meet the needs of all our learners, in particular disadvantaged and SEND children.
Literacy and the teaching of English permeate the whole curriculum. There is a clear emphasis on the teaching of Standard English across the curriculum to ensure that children have opportunities to confidently read and write and talk in a range of contexts to at least a national age-related expectation.
Teachers aim to provide stimulating experiences and opportunities to motivate the child, using a range of resources to engage individuals and groups of children and by providing real-life and open-ended learning opportunities.
Vocabulary Development
Teachers actively develop vocabulary, building systematically on pupils' current knowledge within English lessons and the children together understand key vocabulary from each focus text they are looking at. Active Vocabulary is a key focus in every subject whereby teachers focus on the key vocabulary in each new topic as pupils' acquisition and command of vocabulary are key to their learning and progress across the whole curriculum. This links strongly to our Communication curriculum driver. Our Active Vocabulary increases pupils' knowledge of words in general while making links between known and new vocabulary. Pupils can then expand the vocabulary choices that are available to them when they write in all subjects. In order for pupils to improve their comprehension, it is also vital that they understand the meanings of words which they meet in their reading across all subjects.
Impact
The impact our curriculum has on our children:
Children are happy learners within English lessons. We have a community of enthusiastic readers and writers who enjoy showcasing their developing literacy knowledge and skills, and love to discuss and share their ideas.
Through Literacy, children deepen their appreciation of their faith and fulfil their God-given talents.
Children of all abilities and backgrounds achieve well in English, reflected in good progress that reveals a clear learning journey. Children talk enthusiastically about their learning in English and are eager to further their learning in the next stages of their education.
Children will achieve the best possible qualifications and standards, whatever their starting point or ability.
Children access a broad and balanced English curriculum that develops oracy, writing and reading skills in all lessons and learning opportunities across the curriculum.
Clear outcomes focus and guide development plans in English to drive improvement.
Children will develop communication skills for life.
Children of all abilities and backgrounds achieve well in English, reflected in good progress that reveals a clear learning journey. Children talk enthusiastically about their learning in English and are eager to further their learning in the next stages of their education.
Children are encouraged to aspire to be good readers and writers and recognise the importance of these skills for future careers and aspirations.
Fundamental British Values are evident in reading across the school linked to the curriculum driver knowledge of the world. Children have access to a range of multi-cultural books within lessons and through our guided reading and individual reading books and through these books we celebrate our different cultures.
British Values are evident throughout our writing curriculum whereby children at St Mary's have a wide range of opportunities to write about a range of topics/issues which relate to the backgrounds and experiences of our pupils – this also links strongly to the Community curriculum driver. Our pupils' work is regularly celebrated with our parents within our local community.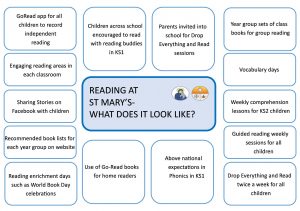 English Documents
Please view the additional documents in school:
Reading Knowledge Organisers
Writing Knowledge Organisers
Reading Targets
Writing Targets
English Knowledge and Skills Progression
Writing Genres Skills Progression
Spellings Skills Progression
Reading Skills Progression
Spellings Long Term Plans Y1 to Y6
Gallery