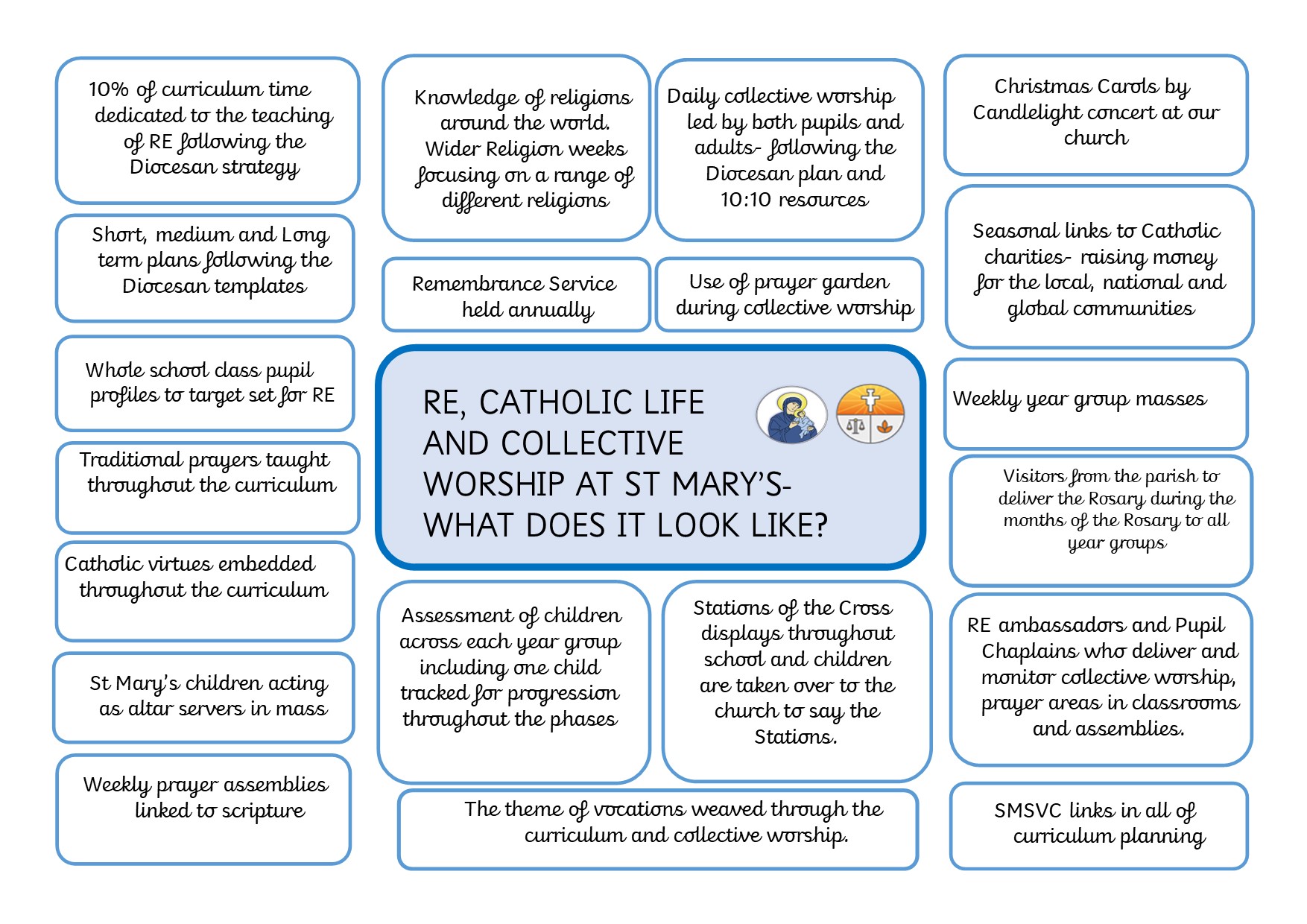 Intent
To provide high quality teaching in RE which is central to the mission and virtues of our school.
For each child to leave St Mary's Catholic Primary Academy with a wide range of happy and rich memories in RE, formed through interesting and exciting experiences driven through an engaging and comprehensive curriculum. This is the basis of knowledge and understanding of the Catholic faith, enabling them to develop a living and personal faith in Jesus Christ and allowing them to know and love God.
Enable each child to develop a deeper understanding of the Catholic faith, promote respect for religious and moral values and tolerance of other races and religions.
Promote a close and co-operative relationship between home, parish and school.
For the RE curriculum to play a central role in the school's work on spiritual, moral, vocational, social and cultural education.
Further Aims:
Children will meet the Diocesan Standards for Primary Religious Education, which will be taught by highly qualified staff who will engage children's intellect, heart and imagination, inspiring enthusiasm and interest in RE.
Children will develop an awareness of God's presence in their lives and the lives of others, developing the spiritual life of each child through prayer and reflection.
Children will develop a well-formed conscience allowing them to make sound moral judgements in the light of personal commitment to God.
Children will be prepared for life in a multi faith society by fostering respect for and understanding of rich cultural diversity.
Opportunities will exist for children of all ages to experience learning beyond the classroom.  This will allow them to enrich their knowledge by, for example, visiting different places of worship, including other faiths
Children will develop a deep understanding of the RE unit they are studying. They will increasingly use their prior knowledge to develop into religiously literate young people.
Implementation
In our school, the curriculum hours in RE are non-negotiable. At least 10% of curriculum time is dedicated to the taught subject of RE. Consideration is given to the times in which RE is taught and this is reviewed by the Senior Leadership Team. The RE lead supports staff in high quality planning and delivery of RE lesson through using the Diocesan long term/medium term/short term planning frames following the 'Learning & Growing as the People of God' strategy. The RE leader regularly monitors planning and work within RE and then meets with the Principal to evaluate the provision provided in order to ensure teaching and learning is outstanding.
Where necessary, staff will receive coaching and training in RE. Each year group will study a number of units over the year.  The units are developmental, building on previous knowledge and experience and taking into account of the children's age and understanding. At the beginning of each academic year, class pupil profiles are completed for all classes where children are given a target for their RE learning. High quality teaching then responds to the needs of the children. Pupils will participate in Mass, feast days, Holy days collective worship which will involve religious actions and worship including the celebration of the sacraments. The use of visits and visitors in school will enhance the RE curriculum.
Each term, assessment is completed in two areas for RE. For National assessment, two focus children are tracked throughout the phase and evidence is collected towards the national targets for RE assessment. For Diocesan assessment, a traffic light system is used to assess every child in school. Within that, 3 children are selected per class and evidence is collected to show how these children have met standards which match the Diocesan Assessment Schedule. This data is then analysed along with monitoring evidence to plan the next term's focus on the improvement of RE teaching.
Impact
Children of all abilities and backgrounds achieve well in RE, reflected in outstanding progress that reveals a clear learning journey.  Children talk enthusiastically about their learning in RE and are eager to further their learning in the next stages of their education. Clear outcomes focus and guide all RE development plans and drive improvement.
Through RE, children deepen their appreciation of their faith and fulfil their God-given talents.
Through wider reading in RE, children will know about a wide variety of Saints, how we can learn from their example, and historical religious events and figures. They will be able to make links between Jesus' life and teaching and link it to their own lives, making links between different forms of Christian action, such as in rituals and charitable acts.
RE Documents
Please view the additional documents in school:
RE Skills Progression
RE Vocabulary Progression
RE Unit Markers
Wider Religion
Throughout the year, our children will learn about other faiths during our Wider Religion lessons, promoting two of our Fundamental British Values – mutual respect and tolerance of those with different faiths and beliefs.
Studying other faiths allows children to "think and speak respectfully of other religions and their followers, and to learn"(Pope Francis, August 2013).
Please view our Wider Religion documents below:
Gallery