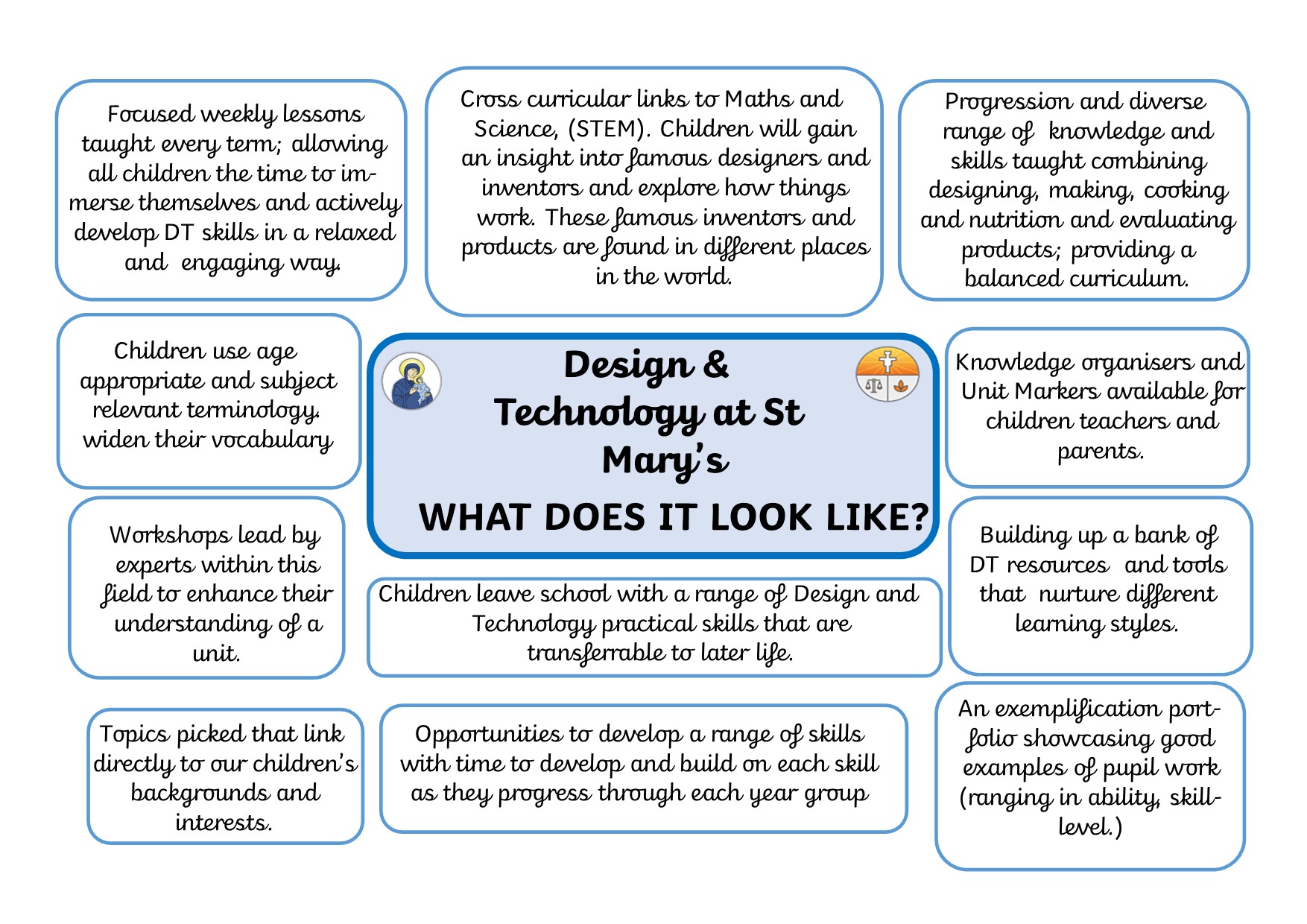 Curriculum Statement and Implementation
At St Mary's, Design and Technology plays a pivotal role in our curriculum, serving as a source of inspiration and practical skill-building for our students. To ensure focused learning, we allocate one hour each week during the second half of each term to this subject
Our approach to Design and Technology is holistic, fostering creativity and teamwork. Beyond product creation, we encourage to tackle real-world problems, considering their own needs and the needs of others, all in line with the National Curriculum guidelines.
Our curriculum offers a comprehensive educational experience. Design and Technology seamlessly integrates with other subjects such as mathematics, science, computing and art, showcasing the real -world applications of learning and highlighting the interconnectedness of knowledge domains.
Critical thinking is at the core of our lessons. Children engage in reflection and evaluation of their work, fostering innovation and risk taking as they refine their problem-solving skills.
In addition, the Design and Technology curriculum undergoes regular reviews by the Senior Leadership Team (SLT) to ensure its effectiveness and alignment with our educational aims. This ensures that our approach remains dynamic and responsive to the evolving needs of the children.
By connecting learning to real-life structures and purposes, St Mary's fosters a deep appreciation for the practicality and relevance of Design and Technology in our world today.
Design & Technology Documents
Please view the additional documents in school:
Design and Technology Knowledge and Skills Progression
Design and Technology Vocabulary Progression
Design and Technology Knowledge Organisers
Design and Technology Unit Markers