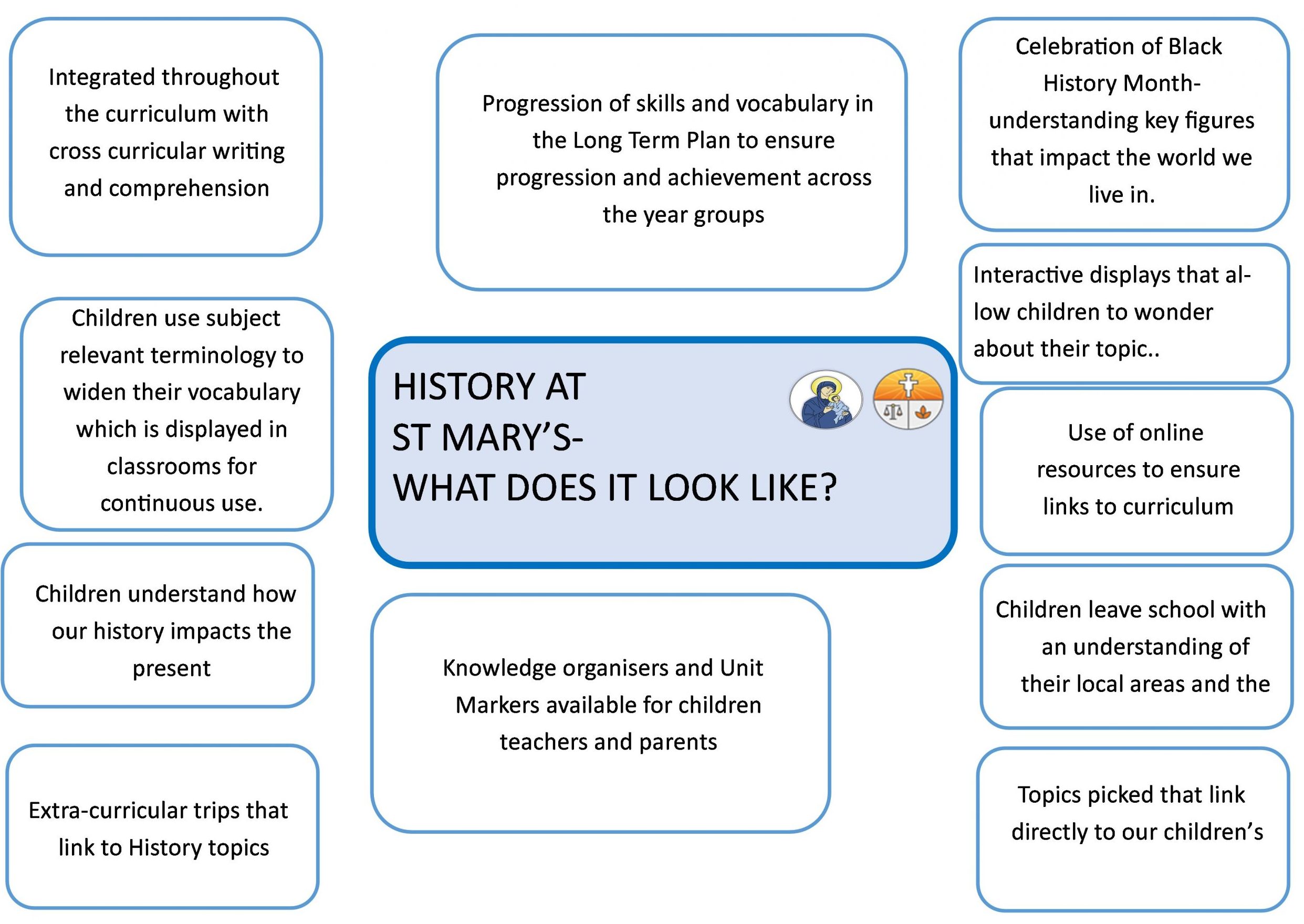 Intent
At St Mary's, we aim to deliver an engaging History curriculum which is accessible to all, enabling children to understand the history of our world and how it impacts us today.
Our units of work are informed by the 2014 National Curriculum and are sensitive to children's interests, as well as the context of our local area – providing children with aspirational role models from all cultural backgrounds that have shaped the world today.
The history curriculum at St Mary's is carefully planned and structured to ensure that current learning is linked to previous learning and that the school's approaches are informed by current pedagogy.
In History, we aim to provide an opportunity to develop interests and overcome barriers through our 'Curriculum Drivers'. These 'drivers' are used to underpin the direction and development  and to ensure that History is enriched and personalised in order to meet the needs, interests and ambitions of our children and families.
We want our children to be:
Aware of their 'community', giving opportunities to understand how topics they have learnt have affected the wider community and ever changing world.
Ambitious in setting their own 'aspirations' by allowing them to learn about a range of skilled influential role models in History, recognising what qualities contributed to their success.
Active in sustaining a 'heathy lifestyle' by recognising how human diets have evolved, from Prehistoric times to the 21st century and begin to understand how this has affected our physiology and knowledge of keeping ourselves healthy.
Avid learners and actively gain a 'knowledge of the world' around them by telling them stories of how nations, cities and communities came to be everything that it is.
Able to effectively participate in class discussions, from understanding historical artefacts to considering how eras have contributed to society today, building on their 'communication' and subject-specific vocabulary
In line with the 2014 National Curriculum for History, the curriculum at St Mary's aims to ensure that all pupils:
know and understand the history of these islands as a coherent, chronological narrative, from the earliest times to the present day: how people's lives have shaped this nation and how Britain has influenced and been influenced by the wider world.
know and understand significant aspects of the history of the wider world: the nature of ancient civilisations; the expansion and dissolution of empires; characteristic features of past non-European societies; achievements and follies of mankind.
gain and deploy a historically grounded understanding of abstract terms such as 'empire', 'civilisation', 'parliament' and 'peasantry.'
understand historical concepts such as continuity and change, cause and consequence, similarity, difference and significance, and use them to make connections, draw contrasts, analyse trends, frame historically valid questions and create their own structured accounts, including written narratives and analysis.
understand the methods of historical enquiry, including how evidence is used rigorously to make historical claims, and discern how and why contrasting arguments and interpretations of the past have been constructed.
gain historical perspective by placing their growing knowledge into different contexts: understanding the connections between local, regional, national and international history; between cultural, economic, military, political, religious and social history; and between short- and long-term timescales.
Implementation
At St Mary's, History is taught on a rotated timetable each half term, so that children achieve depth in their learning and are given time to consolidate and build on prior knowledge, especially when focusing on key concepts. The key knowledge and skills of each topic is identified, through the use of unit markers and knowledge organisers, and consideration has been given to ensure progression of skills and vocabulary across each phase of the school. By the end of year 6, children will have a chronological understanding of British history from pre-historic eras to the present day. They are able to draw comparisons and make connections between different time periods and their own lives. Interlinked with this, are studies of world history – such as the ancient civilisations of Greece and the Mayans.
Cross-curricular outcomes in History are specifically planned for, with strong links between the History curriculum and other subjects, enabling further contextual learning. Cross-curricular opportunities through English lessons are planned and delivered the half-term following the taught history unit in order to use their skills and knowledge in a deeper and broader field and demonstrate the children's acquisition of identified key knowledge. Wolverhampton is situated in the Black Country and is fortunate enough to have a selection of specialist museums, which are fully utilised to achieve the desired outcomes, with extensive opportunities for learning outside the classroom embedded in practice. In addition, St Mary's borders on the county of Staffordshire, which also provides enrichment opportunities for other units of work, such as castles.
Planning is informed by and aligned with the National Curriculum. In addition, staff have access to a range of engaging teaching tools, which support staff subject knowledge. Consideration is given to how children, of all abilities, are challenged within each lesson, as well as how learners will be supported in line with the school's commitment to inclusion. Outcomes of work are regularly monitored to ensure that they reflect a sound understanding of the key identified knowledge and skills – this monitoring is carried out by the curriculum leader, phase leader and SLT. Children's books are monitored regularly by class teachers through the use of 'unit markers' whereby key skills to be achieved are stated, allowing children to have an awareness of their learning. Staff use these to identify and date when a child has achieved this task, and is used to recognise gaps in learning and inform areas to develop in planning for the following academic year. Linking to our curriculum drivers, there is a strong emphasis on people and the community of our local area, including our parish and school.
Early Years explore historical themes and content through the 'Understanding of the World' strand of the EYFS curriculum. This involves guiding children to make sense of their physical world and their community through opportunities to explore, observe and find out about people, places and time. They are assessed according to the Development Matters Attainment targets.  By the end of EYFS for GLD, children are required to:
Talk about past and present events in their own lives and in the lives of family members.
They will have opportunities to share experiences and knowledge from different parts of their lives with each other. Opportunities will be provided to preserve memories of special events, e.g. making a book, collecting photographs, sound recording, drawing and writing.
History Documents
Please view the additional documents in school:
History Knowledge and Skills Progression
History Vocabulary Progression
History Knowledge Organisers
History Unit Markers