We have received a national attendance award for Autumn 2022! This award has been given out to schools with attendance in the top 25% of  FFT (Fischer Family Trust) schools nationally for the autumn term 2022.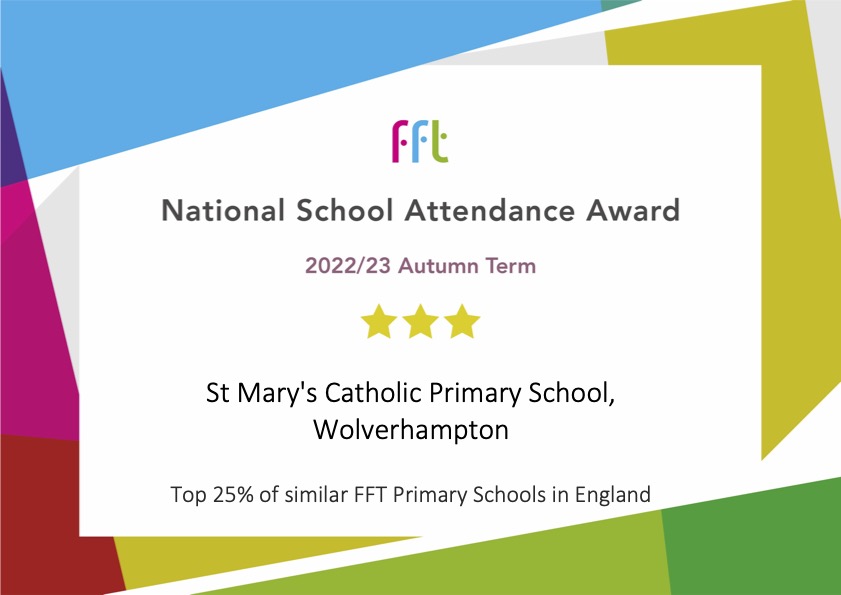 Children are expected to attend school 
regularly and punctually.
The Department for Education (DfE) clearly states: 'Central to raising standards in Education and ensuring all pupils can fulfil their potential is an assumption so widely understood that it is insufficiently stated – pupils need to attend school regularly to benefit from their education. Missing out on lessons leaves children vulnerable to falling behind. Children with poor attendance tend to achieve less in both primary and secondary school.'
Our aim at St Mary's is for our whole school attendance to be in line with or above local and national figures, which impacts on pupil attainment and progress.
Absence Procedures
Parents must contact the school as early as possible on the first day of their child's absence and every subsequent day of absence – updating the school on their child's condition and expected day of return. They are asked to contact school on 01902 308870 ideally before 8.30am with a reason for absence.
 A daily phone call or text message is sent to the parent/carer if they have not reported their child's absence.
If contact cannot be made with parent/carer, a home visit may be carried out by the Wellbeing, Attendance and Intervention Coordinator and other agencies may be informed where necessary.
 In the case of regular absence or continued absence, medical evidence for proof of absence may be requested. This evidence may include:
 

GP appointment card (name/date/time clearly stated)

 

Prescription

 

Medical packaging with name of child on.

 

Medication.

 

Hospital letter/appointment letter.
Arrangements will be made for parents/carers to meet with Mrs Buka, our Wellbeing, Attendance and Intervention Coordinator in school and an attendance support plan may be initiated. In addition, an Early Help Assessment (EHA) will be offered, which can provide additional support that may be necessary to ensure regular attendance of your child at school.
Lateness
Punctuality is of the utmost importance and lateness will not be tolerated. The school day starts at 8.45am. Pupils should be in their classroom at this time ready for learning.
Appointments
As far as possible, parents/carers should attempt to book medical and dental appointments outside of school hours. Where this is not possible, appointments cards or letters should be brought to school to enable authorisation of absence.
If the appointment requires the pupil to leave during the school day, they must be signed out by a parent/carer and signed back in on their return. 
Pupils must attend school before and after the appointment where possible. A whole day's absence for a medical appointment in the morning will not be authorised. School would expect the pupil to return for the afternoon session.
Religious Observance
The school will take advice from Wolverhampton City Council and local religious leaders of all faiths to establish the appropriate number of days required for religious festivals.
Parents are required to inform the school in advance if absences are required for days of religious observance.
Leave of absence during term time
At St Mary's Catholic Primary Academy, our aim is to prepare pupils for their future lives and careers. With this in mind, we require parents/carers to observe the school holidays as prescribed.
As stated in September 2013 Amendment to the Education Regulations 2006: ' Leave of absence during term time can now only be authorised by the Principal if they are satisfied that there are exceptional circumstances that warrant the granting of leave when the students should be being educated'.
Parents/Carers must inform the school at least one week in advance if absences are required for days of religious observance.
Parents/Carers must inform the school using the form provided at least two weeks in advance for any leave of absence requests.
Any requests for leave will be considered on an individual basis.
If term time leave is not granted, the school will record this as an unauthorised absence and could result in a referral to the local authority who may issue a Penalty Notice. The current charge for the Penalty Notice, at the time of writing this policy, is £60 per parent per child, rising to £120 per parent per child if not paid. These Penalty Notices can be issued to anyone who has day to day care of the pupil. Further information on the issuing on Penalty Notices and Leave of Absence during term time can be obtained from www.gov.uk/school-attendance-absence/overview
Authorised absences are when children are absent through illness or family circumstances, about which parents have informed the school and the school has agreed. Absences for other reasons must receive the Principal's permission, otherwise they will be recorded as unauthorised. All requests for absence and the reply are kept in our attendance monitoring file. If a request is not received in time, it may mean that the absence is recorded as unauthorised in the register.
Current law now requires us to note on the child's record any unauthorised absences. Attendance rates are published and the information forms part of the league table of schools.
If any parent/carer would like to discuss any issues relating to attendance, please contact the Attendance Officer – Mrs Buka or the Principal – Mrs Minihane.
Please view our Attendance Policy below:
Attendance at St Marys
Mrs Buka – Wellbeing & Attendance